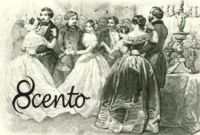 ---
Galleria di Segnalibri -

Bookmarks Gallery
---
I segnalibri che seguono, realizzati in collaborazione con la rivista Jourdelò,
sono stati realizzati quali "dono-ricordo" in occasione di Feste o Gran Balli
organizzati dalla nostra Associazione.
I nostri segnalibri sono organizzati in piccole serie tematiche.

This bookmarks gallery, made in collaboration with Jourdelò,
collect the "gifts" realised in occasion of our Grand Balls.
-----------

Cliccare sull'immagine per ingrandire i segnalibri
Click on the icon to enlarge the bookmarks
---

Serie "Figurino di Moda" -

"Fashion-plate" series

n.1

n.2

n.3

n.4

---

Serie "Manuali di Danza" -

"Dance Manual" series

n.1

n.2

n.3

n.4

---

n.1

n.2

n.3

n.4

---